More Custom Castings Options
June 29th, 2021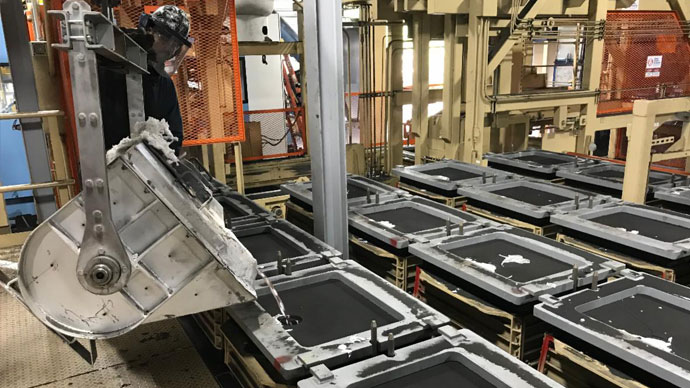 High Efficiency with Capability of up to 120 Molds per Hour
Adalet is proud to unveil a new, world class, precision molding process and handling system for custom aluminum castings. This multi-million dollar foundry upgrade offers maximum speed for small to medium sized castings for quick lead-times and competitive prices. High sand compaction pressure provides a quality surface finish along with superior dimensional control.
Click Here (https://www.adalet.com/Content/uploads/Cast-Aluminum-Foundry-Brochure-Final-Reduced-Size-754.pdf) For Adalet's Custom Capabilities Brochure
As part of a major capital improvement of its foundry, Adalet (Cleveland, Ohio) installed a new automatic DISA Matchplate 24/28 molding machine, part of a new generation of DISAs and the first of this size in the U.S. In addition, we have also added a complete mold handling system custom built by Summit Foundry Equipment.
Altogether this major expansion and foundry upgrade is the largest capital equipment investment in company history.
Check out our new DISA Matchplate 24/28 molding machine in action here.
Features include:
New 72-Car Automated Mold Handling System
New and Upgraded Sand Handling/Shake-out System
Multiple Floor-Molding Stations with a Wide Range of Flask Sizes Available
Quality Aluminum Castings from Green Sand. Part Weight from oz. to 400 lbs.
Striko Stack Melter with 10,000 lb. Bath Capacity plus Two Electric Induction Furnaces, when needed
Full Engineering and Machining Services available for One-Stop Shopping